A complement to any commercial or residential space, the Patrícia–3 seamlessly combines innovation with simple, refined design. Its elegant aesthetic belies its robust construction. Solid wood blades revolve around a balanced, cylindrical DC motor housing. Air is circulated efficiently with barely more than a whisper. An eco-conscious LED light kit completes the package, making Patrícia–3 sophisticated, efficient and green. 
• 42″, 52″ or 60″ diameter with three solid wood walnut or barn wood toned blades.
• Energy efficient, ultra-quiet, six-speed, reversible DC motor with new, reliable technology.
• Damp location finishes: brushed nickel, polished chrome, textured bronze, matte black, or gloss white.  
• Constructed of cast aluminum and heavy stamped steel.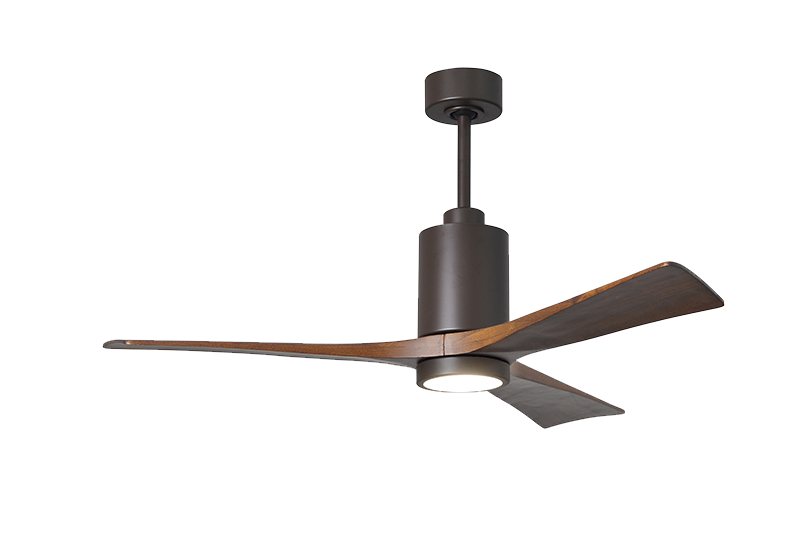 Limited Lifetime Warranty
Standard equipment:
• One downrod of 10″. 5″, 20″, 30″, 48″ or 72″ downrods are also available.
• Vaulted ceiling mount canopy for up to 30 degrees.
• 6-speed RF remote control with reverse function in black.
• Wireless Decorastyle, 6-speed, wall control in white.
• Integrated 16W LED light is dimmable and replaceable.
   3075K.   CRI: 90   Hours: 60,000   Lumens: 690
The Patrícia-3 is compatible with flat or vault celings and can be mounted with any one of the following downrod lengths: 5″, 10″, 20″, 30″, 48″, 72″
Damp location: All standard finishes. Not recommended for salt water/ocean front applications.
CFM 42″ Diameter: 4285   Blade Pitch: 15°
RPM: 232  Watts: 17
CFM 52″ Diameter: 6076   Blade Pitch: 15°
RPM: 219  Watts: 32
CFM 60″ Diameter: 6832   Blade Pitch: 15°
RPM: 156  Watts: 31
Ready to go Matthews Fans?
Whether you have an industrial complex or a small shop, our experts are here to make your life easier, more comfortable and less expensive. Give us a call at +65 6848 8500, or request a quote to learn more about how to go Matthews Fans.